Alkyd ENAMEL PF-115 for wood, metal and concrete.

Enamel paint PF-115 is designed for internal and external works.

By using ENAMEL PF-115 you get spectacular glossy surface.

The paint is produced based on alkyd resin.

Enamel paints are produced of the following colors: white, Ivory, yellow, green, blue, light blue, brown, reddish-brown, gray, light gray, black.

Any other color is also available in case of individual ordering.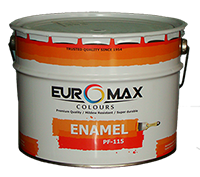 Weight:


2 kg
3 kg
4 kg
5 kg
15 kg
18 kg